The lyrics to this song paint such a beautiful picture:)

Well, this is strange.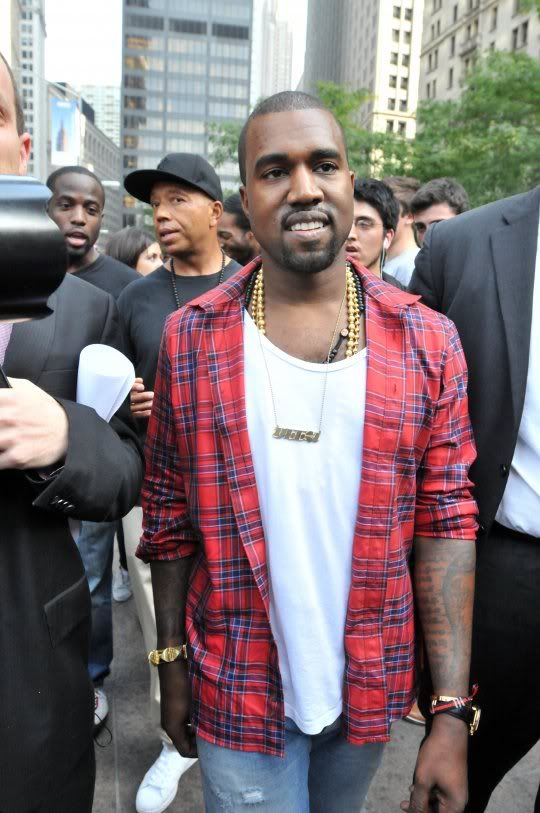 As the Occupy movement picks up around the country, mega-celebrities are jumping on the concrete to show their support. Over the week a very unlikely supporter showed up- Kanye West. Yes, the man who just released one of the most enjoyable money-bragging-I-can-buy-your-mother I-am-so-rich albums to date was out marching with the protesters... accompanied by Russel Simmons, who reportedly, has been out meditating with the people.
August 14, 2011 I made a decision to chop, chop, snap, snap, cut, cut, whatever you wanna call it I did it! I did the big chop blindfolded and nervous I chopped all of my hair off, not knowing the natural grade of hair lying underneath. My roots, oh my roots historical lines drawing all the way back somewhere deep in Africa, my roots. Somehow my parents managed to produce what I consider a unique mix of natural hair. I am in Love! My hair gives me the opportunity to release my prolific frenzy styles to the world. Forcing them to take a look on the wild side and look at life from a blind persons perspective by reducing limitation and increasing risk. Allowing the sounds of their heart to dictate their personal style for the day. Style is not limitless its should bring about blissfulness, however in this society our magazines, tv shows, and fashion models depict a one sided deadened specimen of beauty. Embrace your true beauty!

With Erykah Badu hair dreams check me out



"I am not my hair, but it looks pretty cool"
Even though we here at TrashBagDreams are trying to survive the bipolar fall/winter/summer weather thing that happens in Texas, we realize that there are some people that actually live in states that have seasons. So, in honor of those privileged individuals we decided to post the winter and fall trends that will be popping up on the streets.


Guys, guess what. It is okay to raid Bill Cosby's closet. Seriously! Patterned sweaters are back and better than ever!


Next is the Duffie/Toggle coat. Toggles really make everything look better.
Socks over boots.
Creepers! (not really fall or winter, but Prada!)
"RIP GSH... we do what we do and how we do because of you."- Chuck D of Public Enemy
Most may have only known him by his poetry infused track, The Revolution Will Not Be Televised, but poet/musician

Gil Scott-Heron was more than just a single song or a catchy phrase. He was - is a pillar of the hip hop and poetry community.
Coined as the Godfather of Hip Hop,
Gil Scott-Heron poured the foundation to what conscious hip hop is today. The likes of Common, Lupe, Talib, and Mos Def have Gil to thank for the blues infused social issue style of music. Even Kanye West on Dark Twisted Fantasy honored Gil by using his track, Who Will Survive In America as a way to bring close to his album with a powerful message. The loss of
Gil Scott-Heron will be felt by many, but his music will remind us of his legacy.